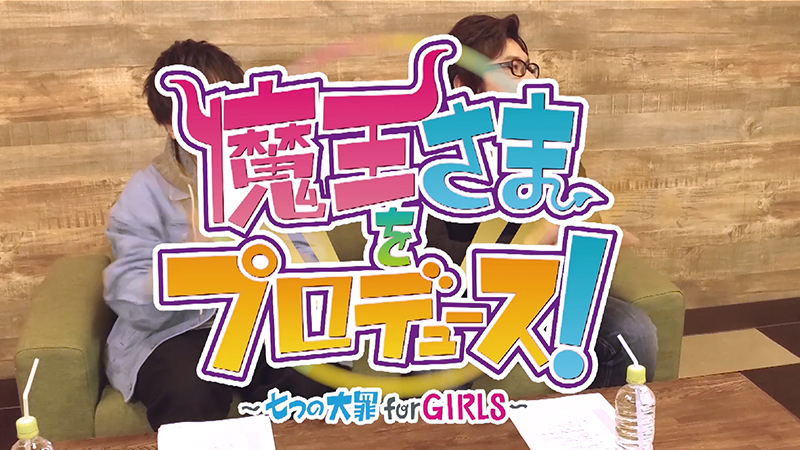 Smartphone game advertising program
Web
"Mao Pro" TV [1st]
Starring: Yu Hatanaka (role of Satan), Takuya Sato (role of Mammon)
We will deliver a lot of content, such as work introductions and fun projects that the two of you will challenge!
Devil idol training novel game
Produce Maou-Sama! ~The Seven Deadly Sins for GIRLS~ (Mao Pro)
*Pre-registration is being accepted
Handsome demon king x entertainment world x sports roots!?
Seven unique, handsome devils rush into the entertainment world from the demon world!
[Appearance]
Yoshitsugu Matsuoka/Junichi Suwabe/Yu Hatanaka/Daisuke Namikawa/Takuya Sato/Daisuke Hirakawa/Daisuke Hirose
[Production]
Planning and Production: Hobby Japan
Maou Character Draft / Key Visual: Teita
Tenshi Character Draft / Key Visual: Mero
Development and operation: EMIQ
『まおプロ』テレビ [第1回]
出演:畠中祐さん(サタン役)、佐藤拓也さん(マモン役)
作品紹介やお二人がチャレンジするお楽しみ企画など盛りだくさんな内容でお届け!
魔王アイドル育成ノベルゲーム
魔王さまをプロデュース!~七つの大罪 for GIRLS~(まおプロ)
※事前登録受付中
イケメン魔王×芸能界×スポ根!?
個性的な七人のイケメン魔王が魔界から芸能界に殴り込み!
【出演】
松岡禎丞/諏訪部順一/畠中祐/浪川大輔/佐藤拓也/平川大輔/廣瀬大介
【制作】
企画制作:ホビージャパン
魔王キャラクター原案・キービジュアル:悌太
天使キャラクター原案・キービジュアル:めろ
開発運営:EMIQ
Ad Arch Staff
Producer: Hiroki Shirakawa
Director: Shinpei Morimoto
CAM: Kento Kamada
CAM: Abel Rosario